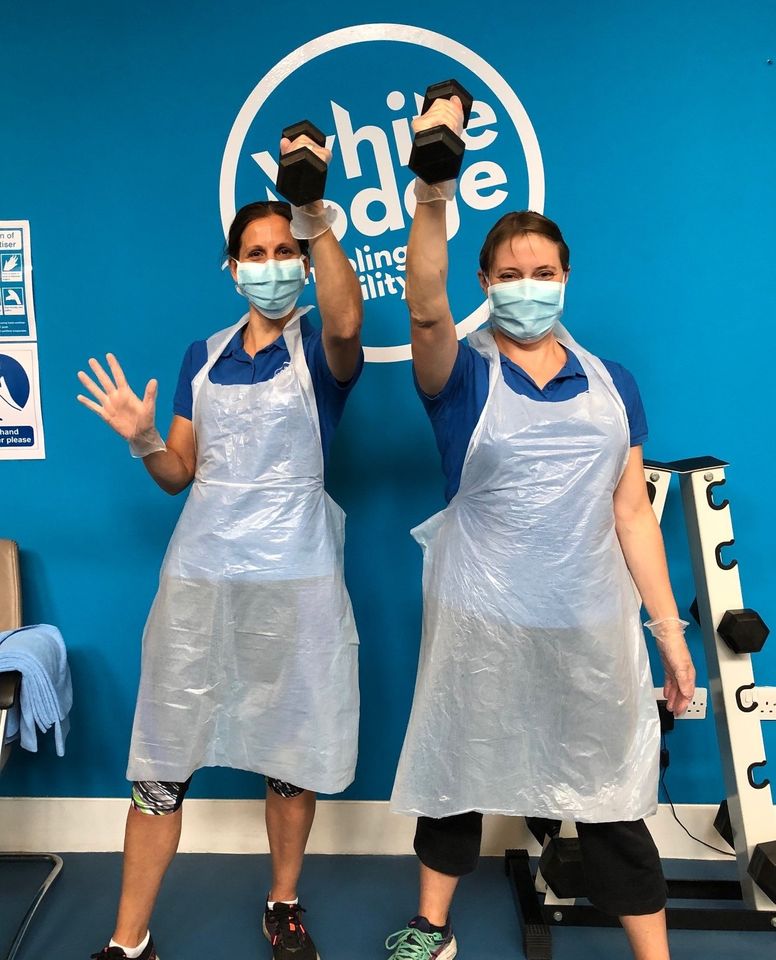 Check out our Autumn/Winter 2020 Newsletter
13 Oct 2020
Despite the strange and challenging times we are living in there is still so much to celebrate and be thankful for at White Lodge.
Check out our latest​​​​​​​ LodgeLife newsletter.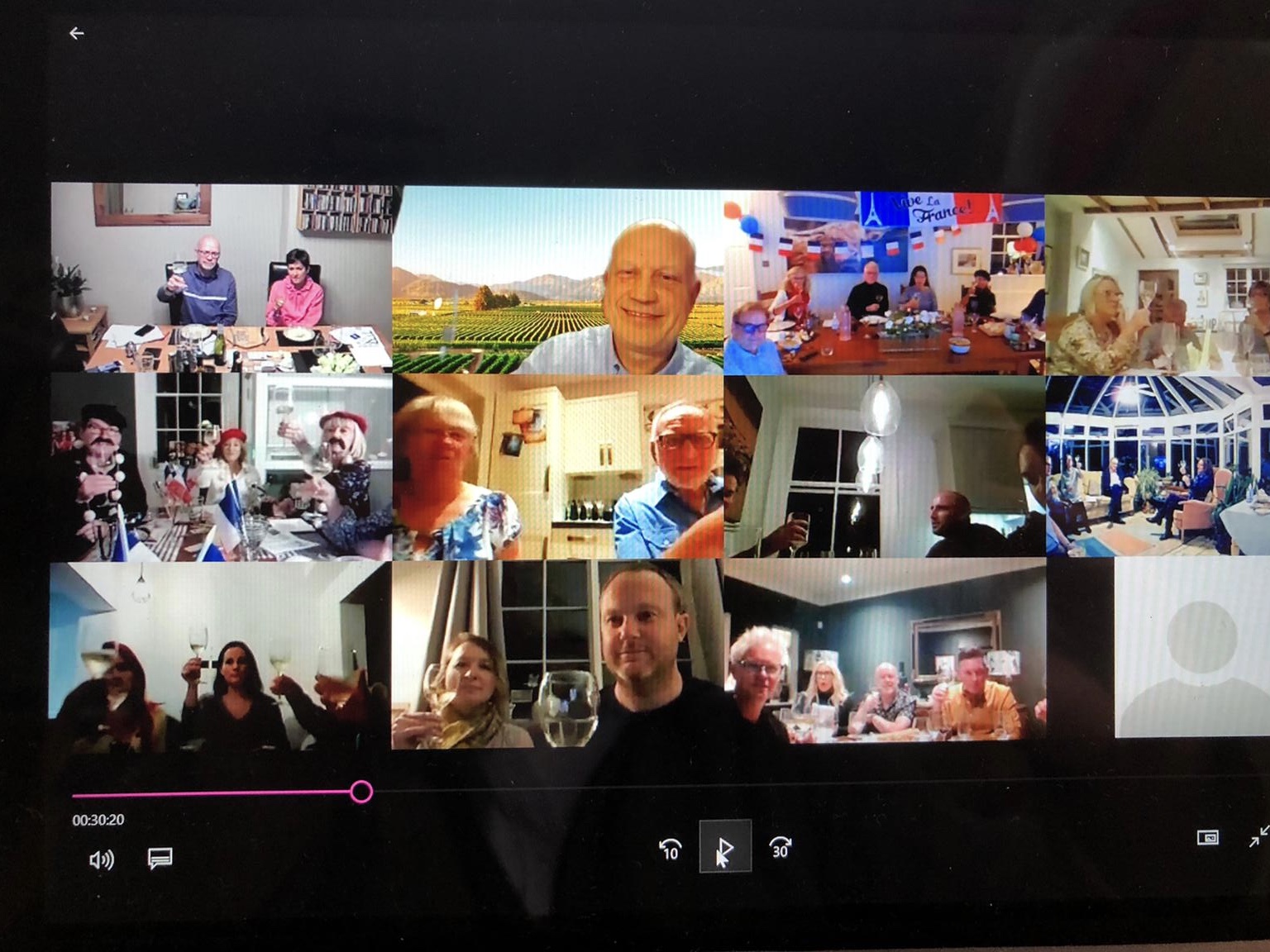 Virtual Vino Success!
09 Oct 2020
Last Saturday, on the 4th October we hosted our very first virtual wine tasting event in partnership with Tim Syrad Wines.
With so many events being cancelled due to the Coronavirus pandemic fundraising for White Lodge has become very challenging. We have therefore been embarking on new virtual ways to engage our supporters, have fun and raise some essential monies to help us Keep on Caring.
Teddington Wine merchant Tim Syrad volunteered his 25 years of experience to host the evening via what we are now calling, Le Zoom Bar!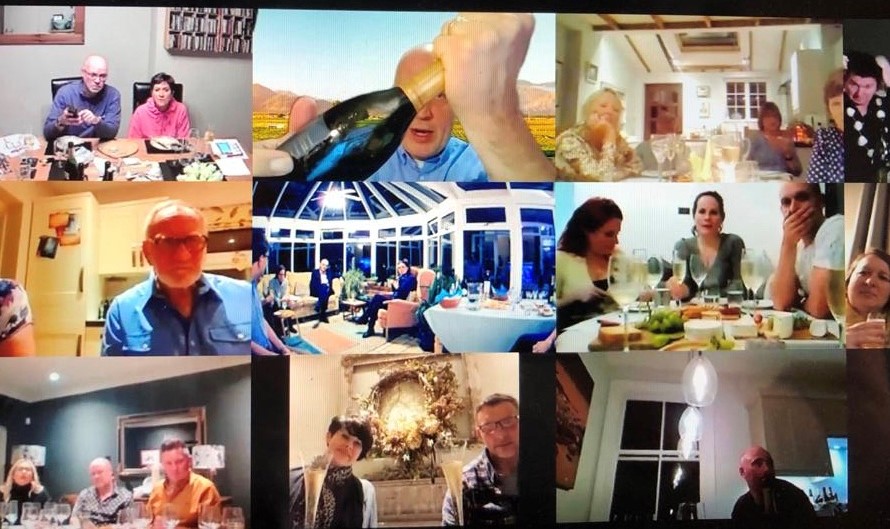 The evening celebrated some of the french classics including Sancerre, Chablis, Champagne, Fleurie, and Bordeaux. Tim supplied the wine which he delivered to people's houses and he also recommended french cheese pairings to complement each of the wines being tasted.
It was great fun! Tim spoke about the characteristics of each wine and even took us through the 6 S's of wine tasting: see, swirl, sniff, sip, swish and swallow (or spit!). It was a real education and he even treated us to a quiz with the winners winning a bottle of Moet!
All in all, whilst the concept was new, Le Zoom Bar worked so well, creating a vibrant atmosphere that connected us all. What's more the event raised over £900 for White Lodge, enough to pay for 13 x 1-2-1 hydrotherapy sessions for adults with conditions such as MS, Cerebral Palsy, Parkinsons, Stroke and brain injury.
A huge thanks to Tim Syrad for being such a brilliant host and to all the White Lodge winos for their contribution and generosity on a great evening.
Please save the date for Friday 4th December in the evening for a festive tasting and an opportunity to have your charity donations doubled as part of our Big Give Christmas Challenge!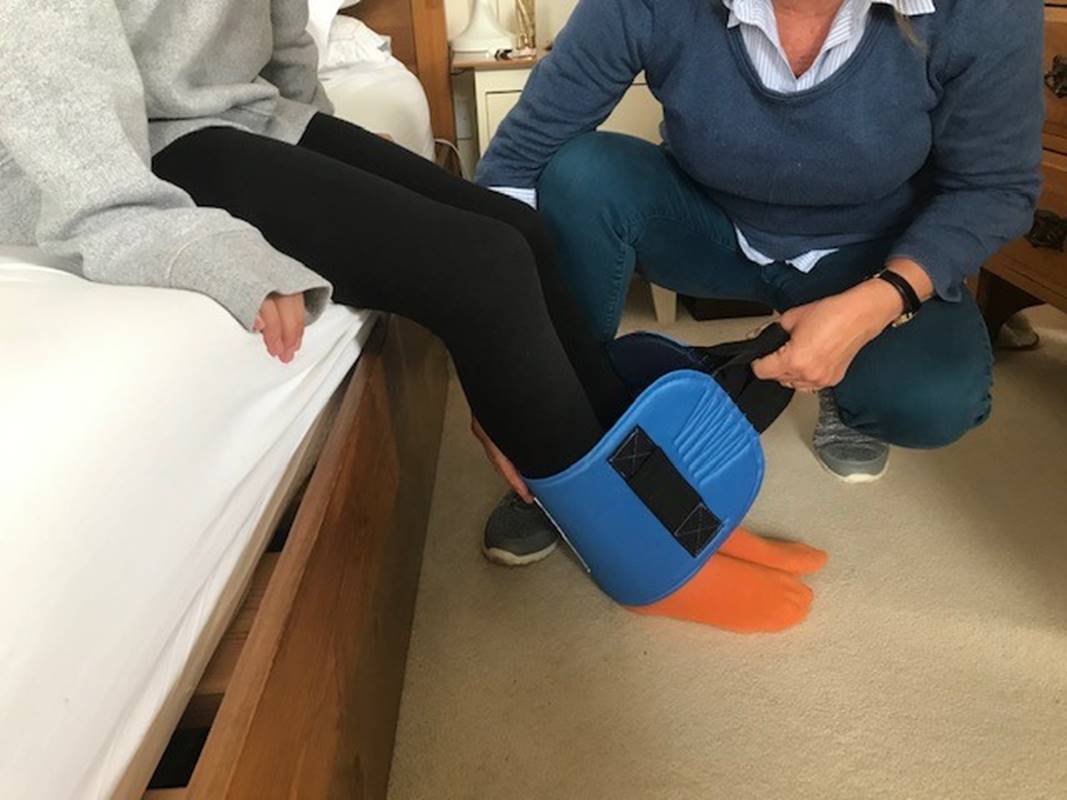 Celebrating Back Care Week - a message from our Moving and Handling Team
07 Oct 2020
It is Back Care Week starting 7th October - throughout these challenging times we have continued supporting people and risen to new challenges.
Usually for the Moving and Handling team, we would have been providing talks or training session with the focus on our carer's in the community. We usually do this to keep carers informed on posture, back care and moving and handling techniques and demonstrate small pieces of equipment. The talks give us the opportunity to let carers know the service we offer at White Lodge and all the other great services available here. At these events we provide information to existing carers but also those people who may not be registered with our service and are unaware of the unique service we offer in providing training and support within their home environment.
This year, as for everyone things are very different!
So what have we been doing during this pandemic? Fortunately, we have been able to continuing supporting carers throughout this difficult time. Initially from the end of March we were unable to provide home visits. However, we kept in regular contact with our existing carers, providing support and problem solving, including referring on to other services if necessary and new referrals continued to be received into the service. For the new carers we provided detailed phone assessments and the offer of Zoom or What's app training where possible. We also referred on the new carers to other services to get equipment or provision of care in the home as necessary for those carers who could not wait for the home visits from us to be reinstated.
Thankfully after the initial few months, we were able to visit carers in their home and continue to do so. We are now providing the training and support that they so desperately need to continue to care for their loved ones. In fact, because of the pandemic, many more people have become informal carers, and referrals to us are increasing!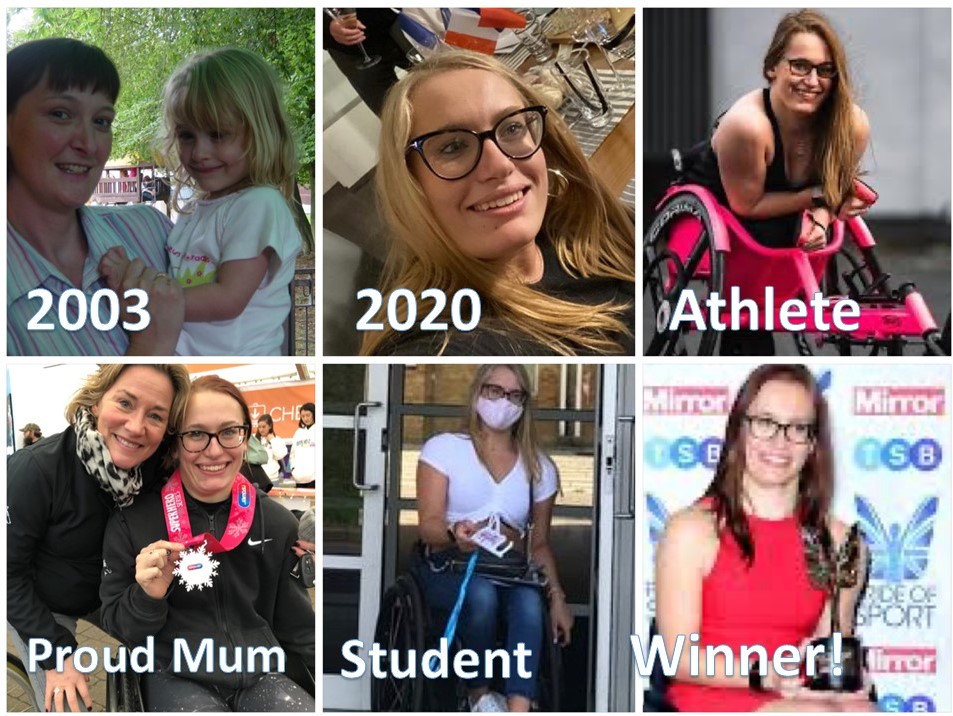 Olivia's determination continues to win the day!
06 Oct 2020
By Tania Gallagher, Olivia's proud mum.
Olivia was born at just 24 weeks and weighed 1lb 11oz which is less than a bag of sugar. She was given less than a 30 % chance of survival and spent 5 ½ months in the neonatal unit at St Peters Hospital requiring oxygen support as her lungs were the size of a thumb nail. We knew then that Olivia was a fighter but didn't know what her future would be or how hard the journey would become.
Over the coming months Olivia was diagnosed with Athetoid Cerebral Palsy a severe sight impairment and deafness. It was at this point that as a family our lives were changed overnight.
We were lucky enough to be referred to White Lodge and they became our life line. Olivia received physio and hydrotherapy twice a week that she loved, along with occupational therapy and speech and language. For me I found my shoulder to cry on when I felt like I couldn't cope and just needed a friendly face to talk to, someone who would understand and listen.
When we arrived Olivia was unable to support her head or sit unaided but always had a smile that would lift your heart and brighten up your day. We didn't know whether Olivia would ever be independent but the support she received at White Lodge over the next 5 years gave us the strength to believe that anything was possible. Olivia continued with her weekly therapy sessions where she accessed gym classes and riding for the disabled and spent 3 years in the nursery. By the time she left she could walk with a frame, feed herself and communicate using Makaton and some words.
Melanie said she always knew Olivia was determined and Olivia has continued to show that strength and determination over the last 19 years. She has represented England at wheelchair racing, won Pride of Britain Young Sports Person of the Year and just received a Sports Scholarship at St Mary's University and is living independently away from home.
White Lodge has enabled Olivia to reach her potential and in her words she believes that disability isn't a barrier and has turned the impossible to a possible and followed her dreams.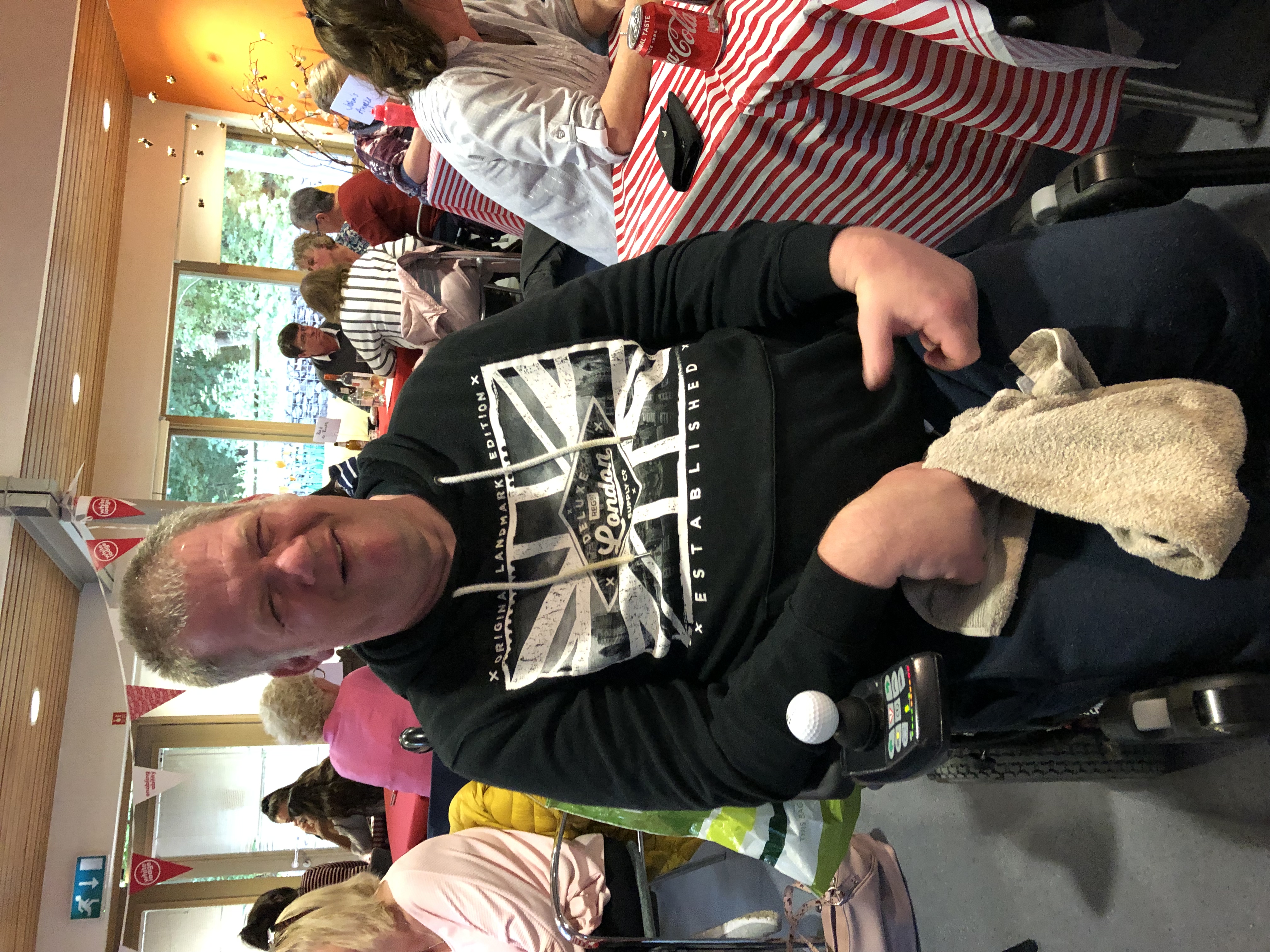 50 years at White Lodge - My story in my words by Jason Vaughan
06 Oct 2020
I have been coming to White Lodge since I was 6 months old, that's now 50 years!
When I was born my parents felt very sad that I was disabled with Cerebral Palsy. They did not know what my future would hold, what to do or how to cope.
They met a very special lady called Carol and started to talk to her about all their fears and concerns. She offered them help and support and more cups of tea then they could drink!
Carol helped my parents get me into two schools and at 19 years of age I moved to London and lived independently. This was all thanks to White Lodge.
Without all of the early support from White Lodge I would not be the happy independent person I am today, and without them people would not know how to communicate with me.
Without all of the support from White Lodge I could never have lived independently in my own home by myself since I was 23. No one will ever know how much that means. White lodge helped me to gain my independence and I thank them all the time for that.
Now as an adult my time at White Lodge is invaluable because they support me when I need them. It gives me a social life and I get to meet new people. I also like to help other disabled people and try to inspire them.
The adult classes that are run in the Rendezvous Hub really help because they maintain independence, get people thinking and talking, they teach us how to cook, create, exercise and make us feel part of life and give us a positive attitude.
There are not enough places like White Lodge that have the love and dedication to do what they do. I would be lost without them.
This is why supporting White Lodge is any way you can is so important. Especially now during this pandemic where White Lodge is finding it harder and harder to raise funds. Please support them, they are a lifeline to us!!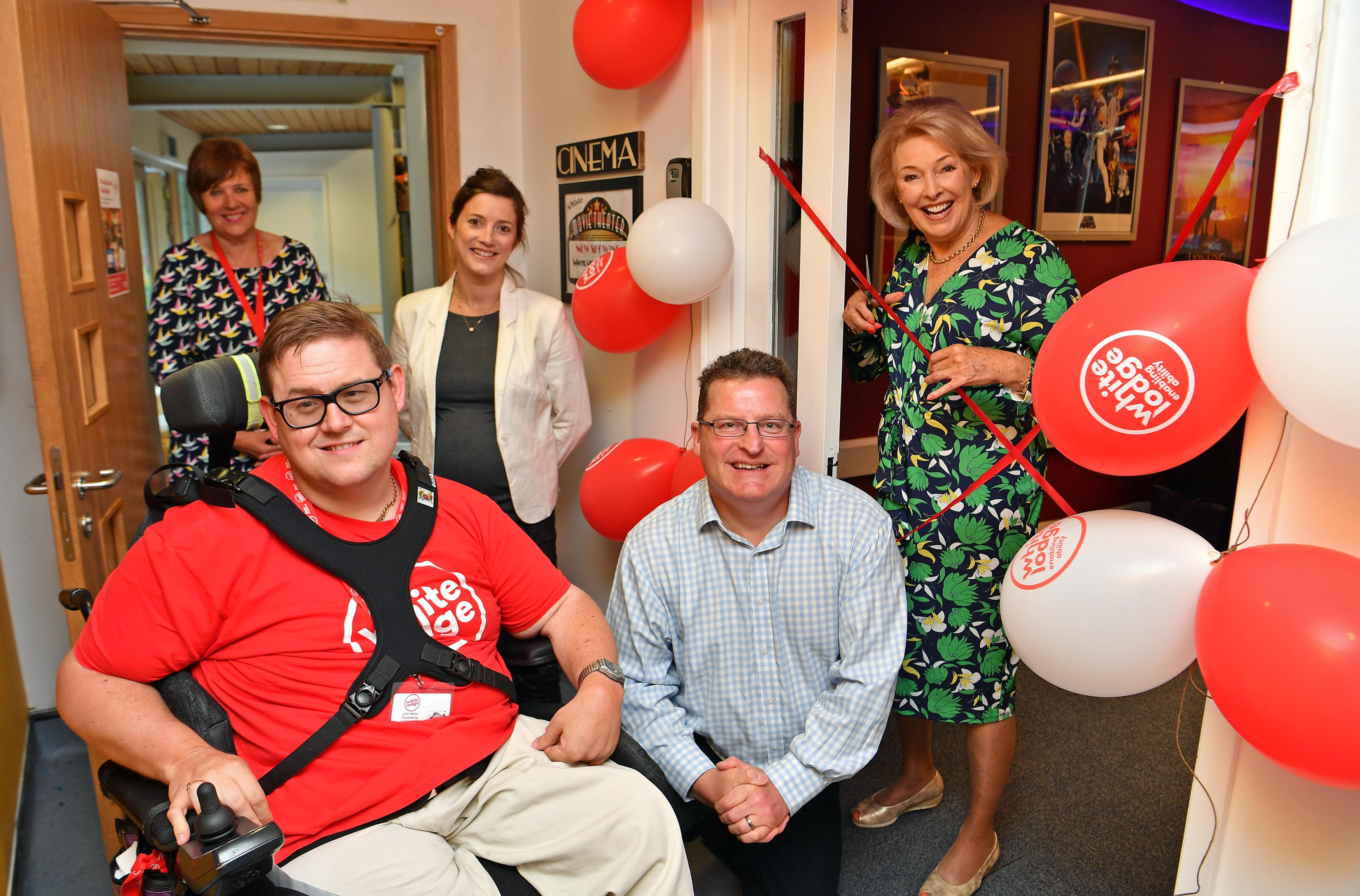 Lights, camera, action - White Lodge opens its very own cinema
23 Sep 2020
It's been challenging times for us all and for White Lodge this is no exception. But despite the pandemic something really exciting has taken place this week with the opening of our very own in-house cinema!
Please visit this link to see a film of this amazing new facility being opened by White Lodge Patron Diana Moran BEM with contributions from another White Lodge Patron, Gemma Bissix.
Having this new facility is incredible as we are now bringing the power of cinema to White Lodge. We can easily accommodate 10 or more people at one time and we have the ability to manage the light and the noise levels to suit our users which is brilliant. We can share some movie blockbusters and Disney classics but also use the big screen to show some special interest nature programmes like the BBC's Frozen Planet which so many of our members love and adore.
The cinema room is here thanks to Ian Morrish, founder of Together For Cinema, and proAV who have been supporting White Lodge for several years. We are very privileged to be Together For Cinema's 25th Cinema installation for UK charities.
Ian says, "In 2010 I set a personal target for Together For Cinema of 25 charitable cinema room installations by 2020. I am delighted to now see this goal satisfied with White Lodge being our 25th. This also takes us well over the £½ million mark for the normal 'paid for' value of these cinema rooms. The Audio Visual industry's support has been staggering and CEDIA, our trade association, has backed Together For Cinema over the years and recognised it's achievements. The next chapter begins now and maybe we'll look at another 25 installations by 2030…?! Enjoy your new facility White Lodge and as l'm local I may pop in for a movie and some popcorn!"
He adds, "In 2010 I set a personal target for Together For Cinema of 25 charitable cinema room installations by 2020. I am delighted to now see this goal satisfied with White Lodge being our 25th. This also takes us well over the £½ million mark for the normal 'paid for' value of these cinema rooms. The Audio Visual industry's support has been staggering and CEDIA, our trade association, has backed Together For Cinema over the years and recognised it's achievements. The next chapter begins now and maybe we'll look at another 25 installations by 2030…?! Enjoy your new facility White Lodge and as l'm local I may pop in for a movie and some popcorn!"
It's been a great collaborative effort with proAV and one that also involves local companies and community groups.
The installation was managed and installed by proAV, who, with Together For Cinema, worked tirelessly to make this happen in very challenging conditions.
Amy Amesbury, PR and Marketing Manager for proAV said, "proAV is proud to have supported White Lodge for many years. With our head office based in Egham we are a local business and have done a great deal of fundraising for the charity. In 2019 we partnered up with Together for Cinema with the idea of creating a new experience at the Centre and so the cinema room plan was born. We are delighted to have been a part of this installation and hope it will provide many years of enjoyment for the very many people that use and work at White Lodge'.
Thanks also extend to Belron International and the Masons within the Runnymede community who helped renovate the room with extra fixtures and furniture to complete this transformational project.
Lesley Robbins, White Lodge CEO says, "The contribution this cinema room will make to the lives of so many children and adults with disabilities is immense. Accessing cinemas can be a challenge for so many people who come to White Lodge, so they often miss out on this great visual experience that we all take for granted. Its come at a time when people have also felt more isolated than ever so this will bring happiness and joy to so many. It will be much used and much loved and we want to thank everyone involved in getting this up and running in these unprecedented times."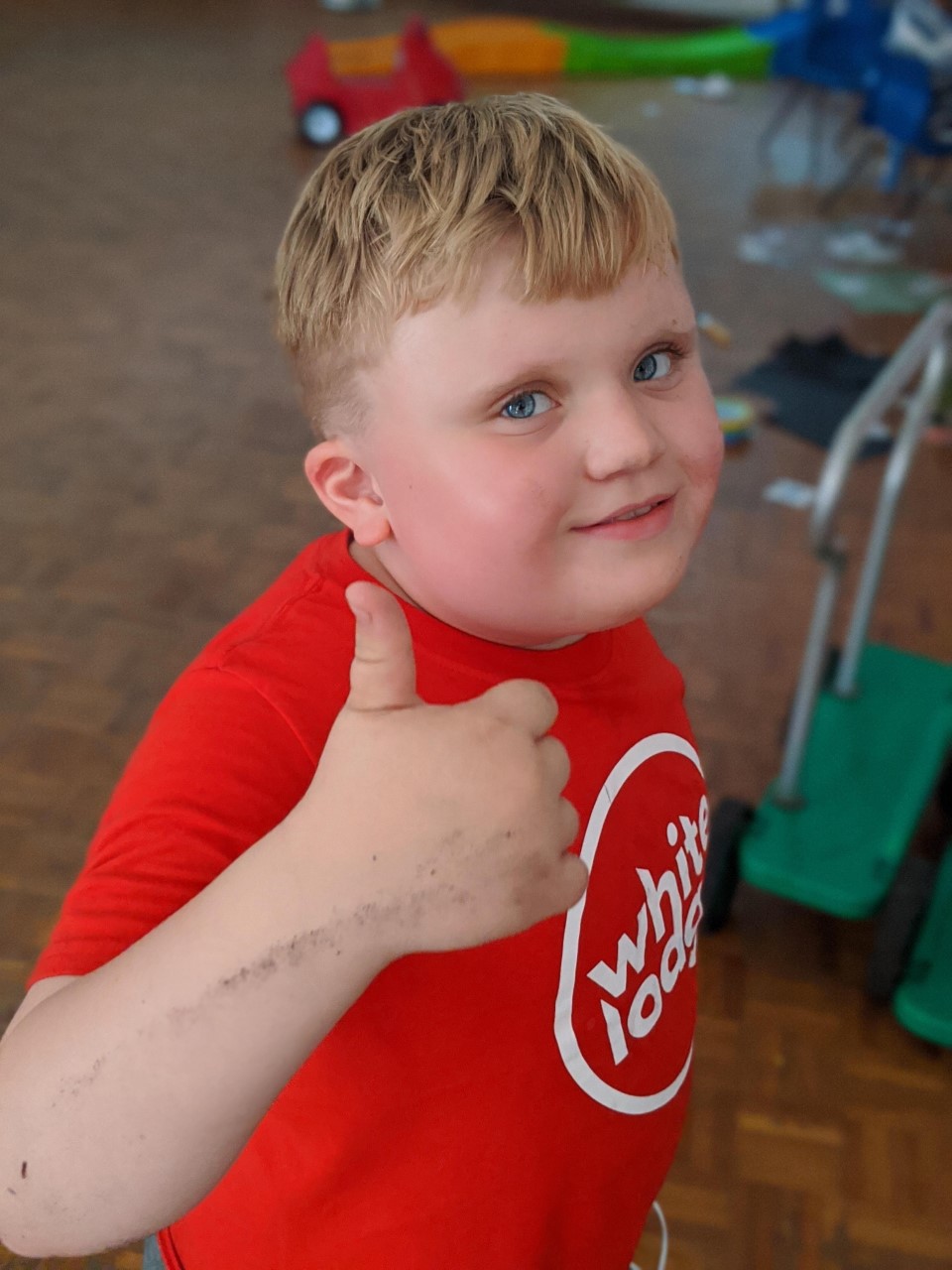 Help us to Keep On Caring
21 Sep 2020
Can you help us Keep On Caring?
The statistics of people with disability in Surrey are quite startling. There are approximately 10,500 children and young people with disabilities aged 0 – 19 ("Surrey Uncovered": 2016). Surrey Census statistics indicate that 5.7% of adults have a long term illness/disability. Behind every statistic is a story of isolation, fear, exclusion and sometimes of desperation which is why the services we provide at White Lodge are so vital.
The effects of the covid-19 pandemic have hit our services and funding hard.
We have been there for the most vulnerable disabled children, adults and their families throughout the pandemic, now can you be there for White Lodge? During these extremely challenging times we have continued to support and care for the most vulnerable children, adults and their families. Their needs are such that it's been imperative that we have been able to provide support.
As the situation constantly changes we have to adapt our services and ways of working. We are reaching more people but subsequently our fundraising has taken a big hit. Going forward we are launching our Keep On Caring appeal to help us continue providing our essential services.
We are calling on our families, supporters, local businesses and corporate friends to come up with ways of fundraising or donate to our appeal.
READ MORE ABOUT THE APPEAL AND DONATE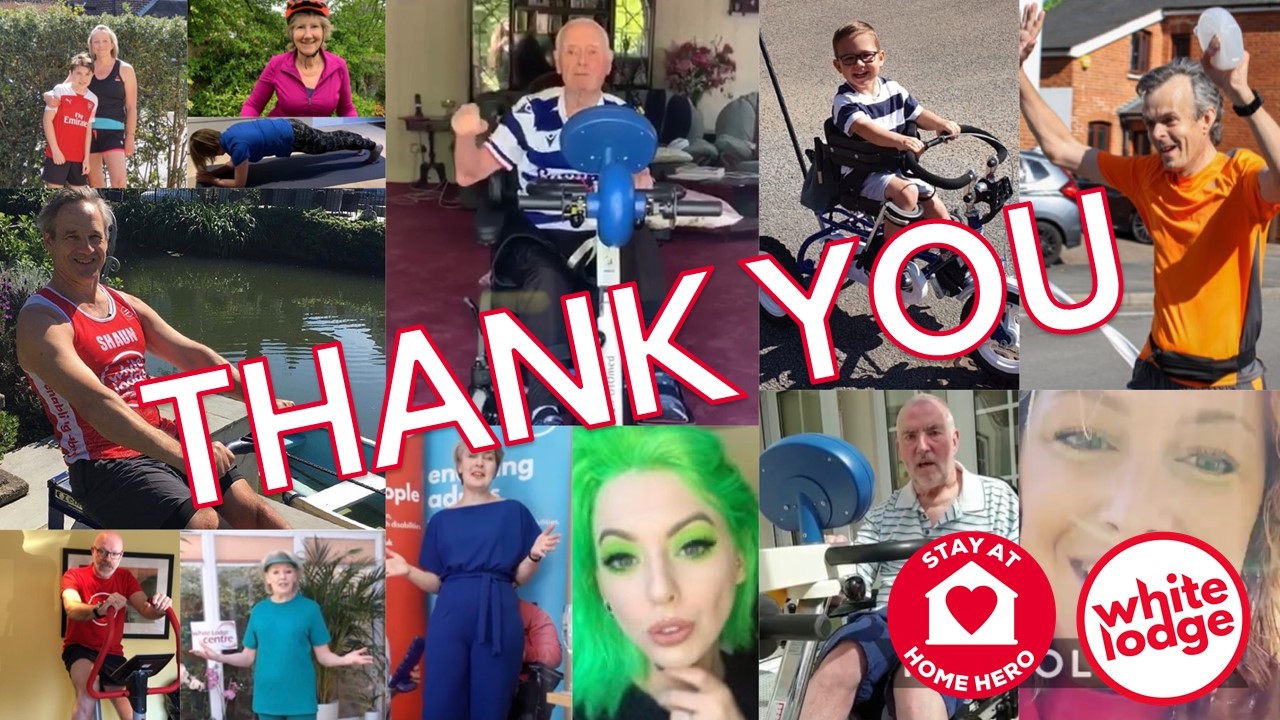 Thank you to all our Stay at Home Heros
14 Sep 2020
As soon as lockdown took hold we wanted everyone to stay connected and feel positive; staff, volunteers, supporters as well as all the children and adults with disabilities who rely on our services.
At White Lodge we know that for many people living with a disability, the daily experience of isolation and exclusion is the norm. With the lockdown measures this increased the feelings of detachment and often helplessness. The effects of the pandemic hit our services hard but we knew we had to still reach and support people. We were able to adapt most of our services to give remote support through online video platforms and we were able to offer critical respite care to the most vulnerable.
We also knew we would need to continue fundraising as all our events got cancelled and everyone had different work and life challenges to face. So we needed to raise money but equally we wanted to raise morale, positivity and hope. So in the first week of April we launched our Stay at Home Hero appeal . The challenge was to use our stay at home powers to stop the spread of Covid 19 and help the NHS but also support our wonderful charity. People were tasked to simply do anything they wanted that made them feel super.
We were blown away by the unique activities everyone did to connect with their hidden super powers and also raise vital funding. This appeal simply united and engaged the whole White Lodge family. Everyone was just AMAZING and we just want to say a huge THANK YOU now the appeal is coming to a natural end. Everyone did such an inspiring range of endeavors and we raised over £35,100. We can't thank everyone but you know who you all are!!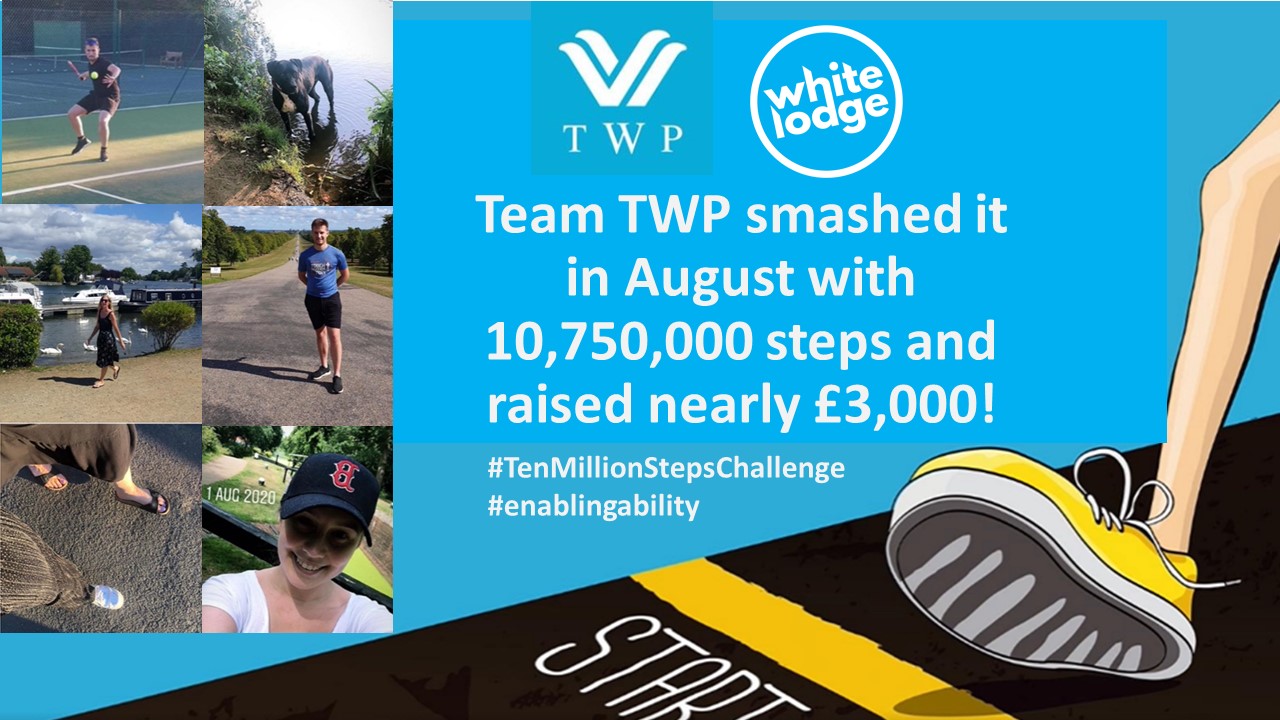 TWP Step Up and go the extra mile... some 5,000 of them!
08 Sep 2020
Throughout August our long-time corporate partner TWP Accounting set themselves a fantastic team challenge to complete 10 million steps in aid of White Lodge. This meant that each member of the team, based in their Weybridge and Cranleigh offices, had a target to achieve a whopping 10,000 step a day for the entire month! Some ran, some walked, some played tennis and others did a variety of other activities too.
The firm got lots of support from friends, family, clients and the local community who rallied behind the firm to support our services during this difficult time.
Paul Hawksley, Managing Partner at TWP Accounting, said: "Our team really went all out to meet this difficult challenge during the last month. We have worked with White Lodge for a number of years and have seen the difference their services make, especially during these tough times, which gave us the inspirational impetus we needed to achieve our goal.
"We are so glad that we have managed to raise so much money for this wonderful cause, which we hope will go some way to helping them as they support others. We can't thank those people who supported us enough."
After working hard to meet the challenge alongside their day to day work, the team managed to achieve over 10,750,000 steps – approximate to around 5,000 miles –and have beaten their original fundraising total of £2,000 to raise just short of £3,000, including gift aid, for White Lodge.
Thank you TWP – what a brilliant initiative and well done to everyone who played their part.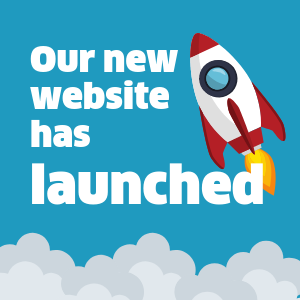 New website
19 Apr 2020
If you're reading this then you are already enjoying our new website!
It's taken a lot of hard work over the last year and we have had input from all our stakeholders to ensure that the site is easy to use and best reflects the positive and progressive services that we provide.

In these uncertain times we feel it's needed more than ever, as once we can open our doors again we will need to raise more awareness of the work we do and subsequent funding to ensure we can still continue to provide all the services we do to those of all abilities.

We hope you like it, we certainly do!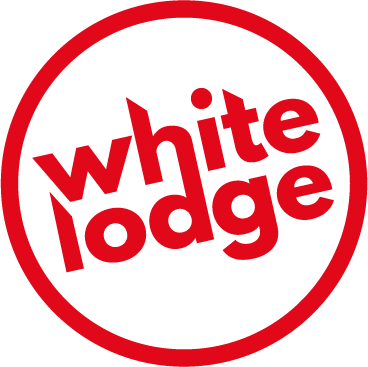 Covid 19 announcement
23 Mar 2020
Message from Lesley Robbins|CEO:
Following the announcement last night by the Prime Minister and a lengthy consultation this morning with our management team and service team leaders we have taken the very difficult decision to suspend many of our services.
Balancing the needs of our vulnerable services users, and their families, against the health and safety of our staff and the community at large during this national emergency has been so very hard to do. For everyone concerned we feel that this is the most appropriate course of action and one which we will continually review over the coming days and weeks. Please click here for a full status of all our services, this is being constantly updated.
I would once again like to thank my amazing team for their continued dedication and creativity during this testing time. Despite temporarily closing White Lodge we will still be able to offer some remote support via phone and video where required.
Most of all I would like to thank the service users and so many families for their understanding over the last few days. We know that our decision may be of great disappointment but please rest assured that we will do all that we can to re-introduce services at the soonest possible time.
In the meantime we sincerely hope you all follow the guidelines that the government have communicated. The lives of many people will depend on it and we all need to do our bit to help mitigate the spread of this dreadful disease and enable our heroic healthcare workers save lives.
We really do hope that life returns to normal as soon as possible but in the meantime we hope and pray that you stay safe.
Best wishes
Lesley
BBC Children in Need - £30,000!
23 Oct 2019
W-hoo! White Lodge has been awarded another £30,000 from BBC Children in Need to fund our play and youth clubs for 4 – 18s.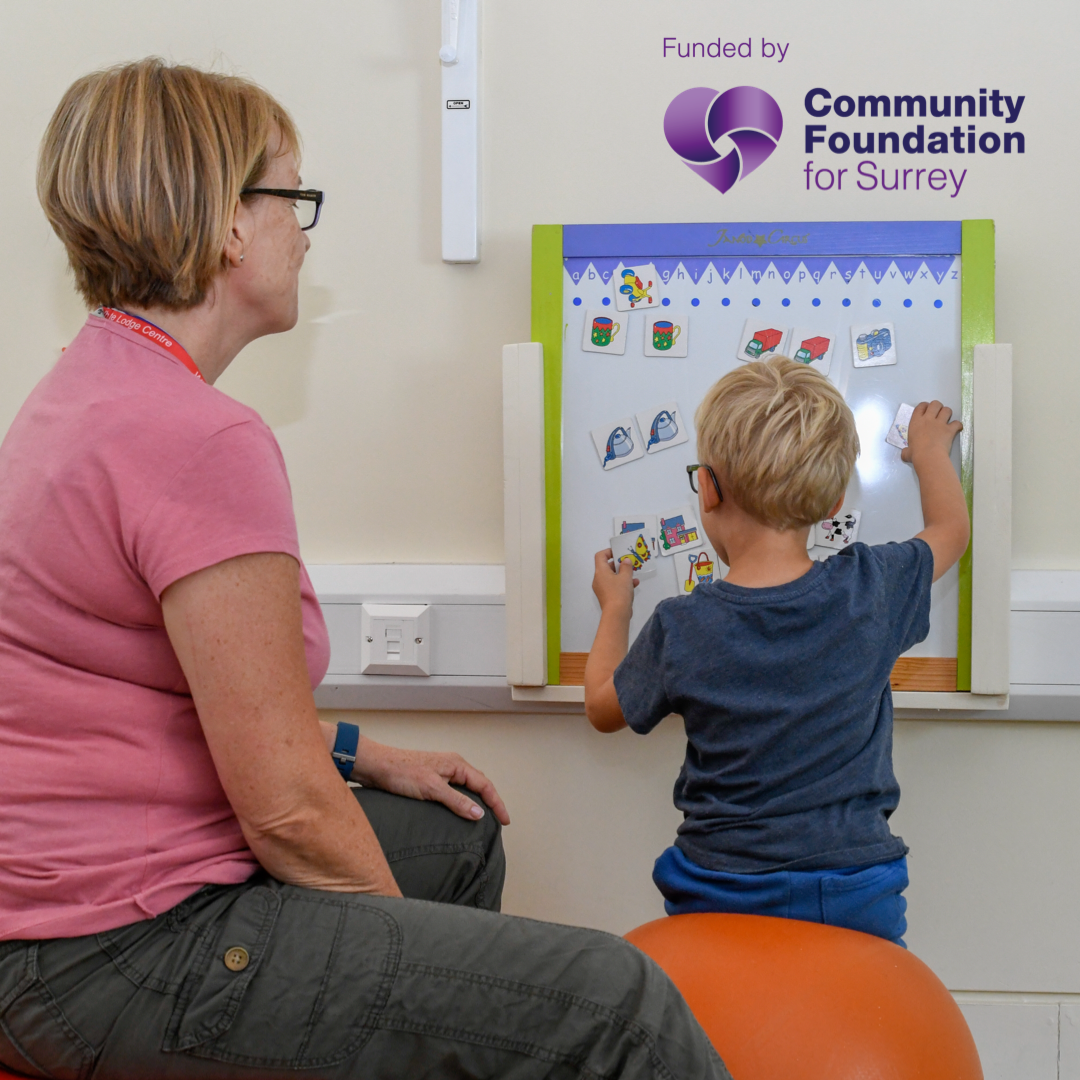 Thank you to the Community Foundation for Surrey
22 Oct 2019
A Big thank you to Community Foundation for Surrey for their donation of £6,000 for additional children's therapy! Thank you so much.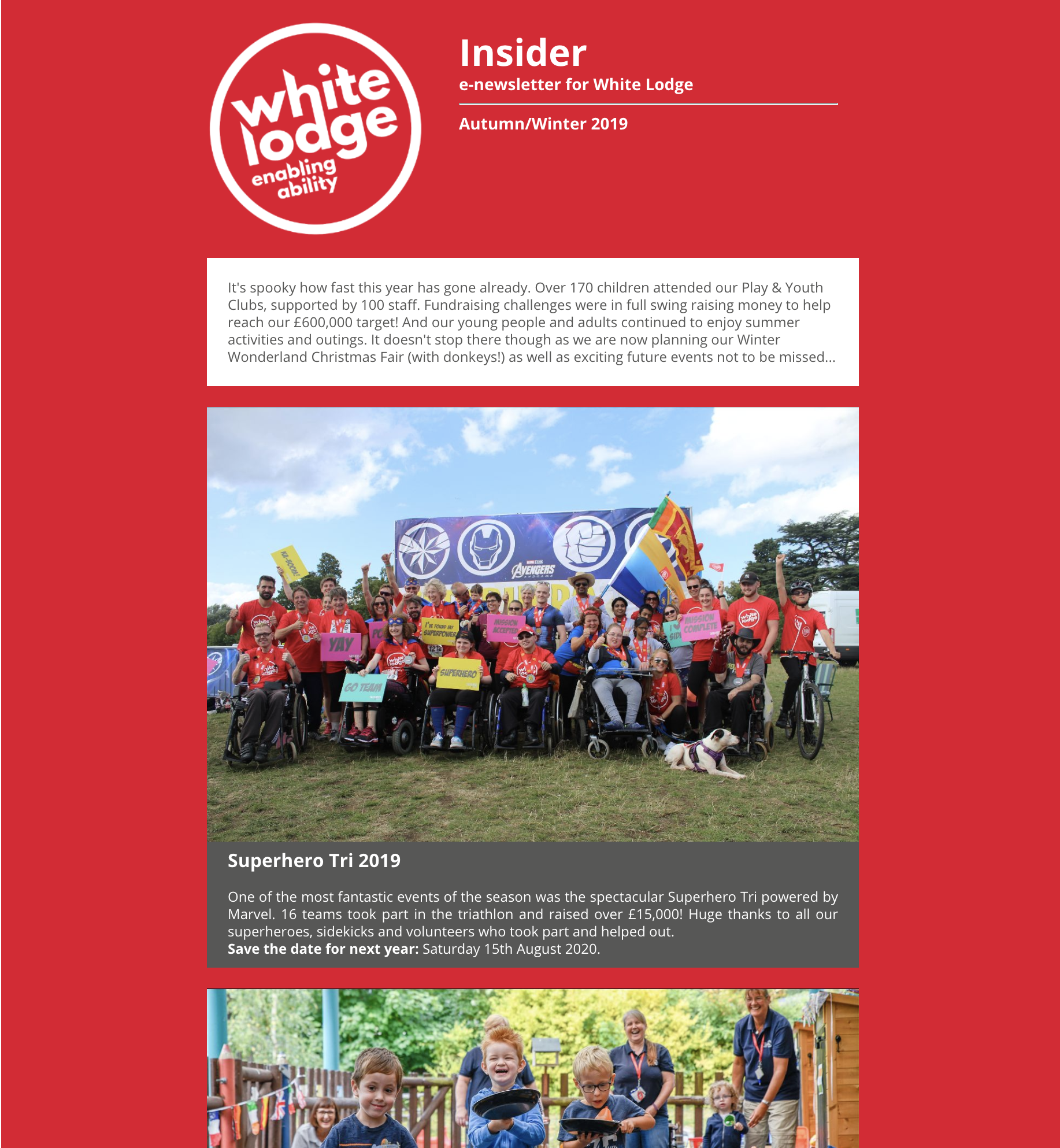 Insider News Autumn/Winter 2019
21 Oct 2019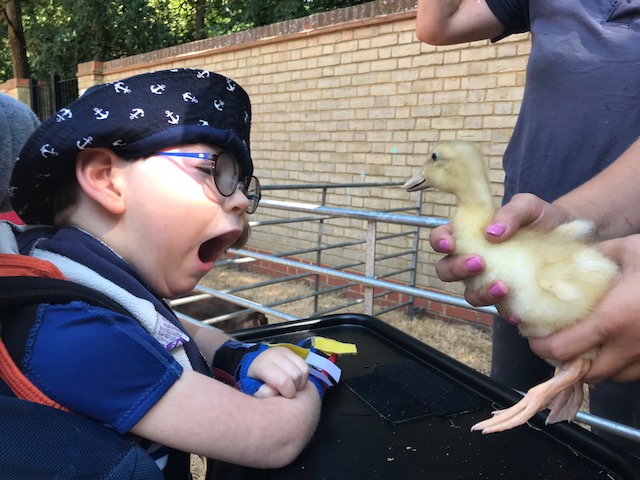 Big up for Walton Charity
17 Jul 2019
Thank you to Walton Charity have awarded WL £36,000 over 3 years for the Elmbridge 4 - 12 play schemes, the Elmbridge 13 – 18 youth schemes and the Elmbridge 4 – 12 Sunday club.