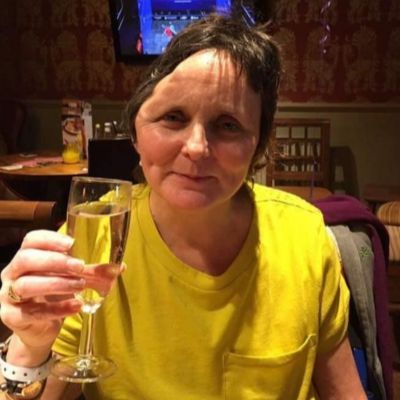 "A catastrophic stroke devastated my active life. With the support of White Lodge I now have my eyes firmly set on completing a triathlon"

I had a busy and active life and raised four wonderful children and also have four beautiful granddaughters. I had a great social life and kept really fit by swimming, cycling and walking.
However, my love of fitness only came about through misfortune. At 22 I suffered a stroke which caused long term partial sight loss and as a result I had to give up my driving licence. I therefore bought a bike and set up about the daily commute using peddle power. I loved it! Pretty soon, my daily routine was to get up at 5.30am, head down to the swimming pool to do 32 lengths and then cycle 13 miles to work and 13 miles back – the equivalent of a marathon a day! I have always been a resilient, can-do person and always enjoyed being active.
In 2016 I was contemplating what to do for my 50th Birthday and I decided that I wanted to take part in my first Triathlon the following year. I started the Couch to 5K running programme and joined an open swimming club. All was going well and on the 22nd October 2016 I went for my second open water session. The water is particularly freezing at that time of year and as I dived in I got immediate brain-freeze. My stroke became a little frantic and at one point I was worried I wouldn't make it back but somehow I scrambled back to the jetty.
I went up to the clubhouse bar to meet my friends. However, I felt weird and my left hand felt like it belonged to someone else. My friends were also concerned that I started talking rubbish and helped me onto a bar stall. That's when it happened – I collapsed! I vaguely remember my friend calling 999 but the rest is just a blur. I had had a catastrophic stroke.
I was quickly transferred to the specialist neurological team at Charing Cross Hospital. There they had to perform an emergency craniotomy to relieve the pressure on my brain. Apologies if you're squeamish but they had to cut the top of my skull off to perform the surgery required to save my life. Those surgeons were just incredible. However, whilst the procedure was a success I spent the next 464 days in and out of hospital and had a titanium plate fitted to replace the hole in my head. To say it was a testing time is an understatement but my sense of humour got me through it.
Whilst I could talk OK, the thing that got me down though was my inability to walk and move my left arm. My instinct was to do all the things that I had always done but the part of my brain that enabled me to do it had died. Twice I fell trying to get out of bed – I kept forgetting. Having been such a positive and can-do person all my life I found it so frustrating. I eventually fell into a deep depression and it was awful.
My family however were just incredible. We have always been close and my plight really effected my ex-husband too, the father to my children. So much so, he felt compelled to come back and care for me. In fact, the care and love he has shown has been invaluable and we are now partners again.
Being the proactive person I am I started looking for what services there were out there and that's when I discovered White Lodge. In August 2017 I was invited to an assessment. It's at that point that my life changed. I had got about as low as I could get but Nicky the physiotherapist introduced me to a step by step programme to try and bring back my senses. Not only are the White Lodge team experts in neuro-physiotherapy they are also just such lovely people – that goes from the receptionists to the café staff and everyone else, they are so welcoming and inclusive. What's more I was introduced to the world of hydrotherapy. With my love of water this was perfect for me. However, when they lowered me into the water for the first time I remember feeling that I wanted to dive in but my body wouldn't let me.
For the first few weeks I couldn't even float but gradually, session by session, Nicky and the team have slowly been re-training my brain to find some co-ordination. After several weeks I floated unaided and then a while later I managed to swim my first few strokes again. It was one of the happiest moments of my life and I felt like singing!
Since then I keep improving and can now stay afloat for 3 minutes at a time and my core, essential for balancing and walking, is strengthening all the time. White Lodge simply means everything to me. Because of Nicky and the team, I have started to feel like me again. I look forward to my sessions more than anything and every time I go I make some kind of progress. It's given me goals to aim for. I'd love to be able to walk unaided by the end of the year but even if I fail I know it's going to happen as White Lodge has reignited my attitude to life.